Heirloom Computing Named a Leader in the ISG Provider Lens™ Mainframe Services & Solutions U.S. 2023 Quadrant Report
May 30th, 2023
Heirloom® recognized as Leader for Mainframe Application Modernization Software.
Information Services Group (ISG), a well-known technology research and advisory firm renowned for its industry and technology expertise, has named Heirloom Computing a Leader in its Mainframe Services & Solutions U.S. 2023 Quadrant Report.
"It is a pleasure to watch Heirloom's outstanding growth and success in mainframe application modernization. The company has acquired a high reputation among leading system integrators, enabling it to work with large organizations and resolve complex modernization challenges." – Pedro L. Bicudo Maschio, Distinguished Analyst and Executive Advisor, ISG
Companies that receive the Leader award have a comprehensive product and service offering, a strong market presence, and an established competitive position. The product portfolios and competitive strategies of Leaders are strongly positioned to win business in the markets covered by the study. The Leaders also represent innovative strength and competitive stability.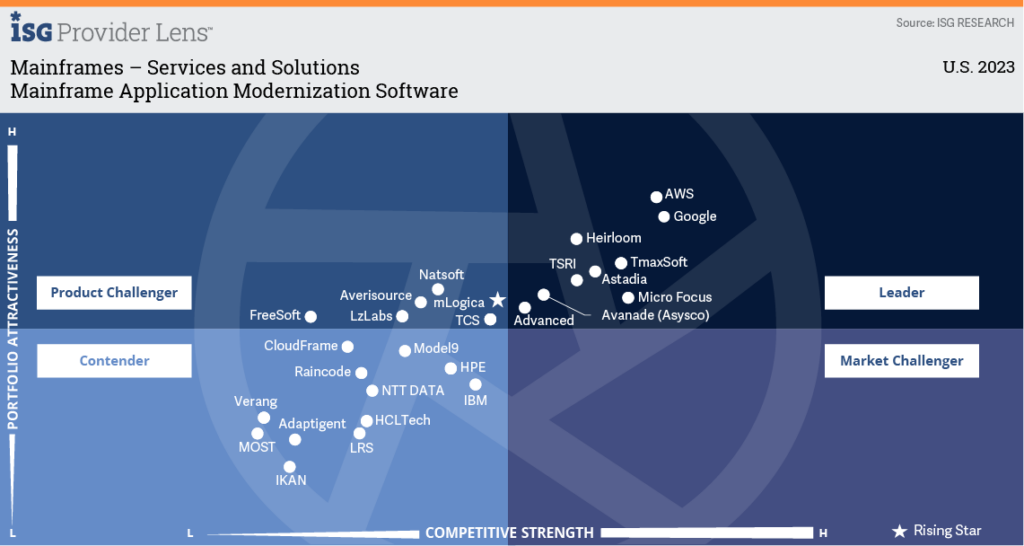 Enterprises with IBM mainframes are increasingly making the decision to exit the data-center business and modernize their infrastructure to the cloud in order to increase agility and dramatically cut costs. Heirloom migrates mainframe workloads using compiler-based refactoring to produce cloud-native applications that run on any cloud.
Highlights from the report:
"Heirloom is highly focused on performance, using compiling technology that transpiles legacy applications to Java. The company's partnerships with hyperscalers and system integrators have enabled it to achieve better brand recognition and increased sales. It can handle large-scale applications."